Father Brand Establishes First Parish School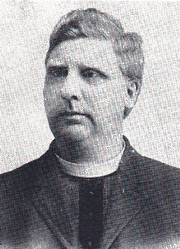 On July 12, 1888, the Archbishop appointed Father Francis Brand pastor of St. Henry's, succeeding Father Bettels. The pastorate of Father Brand marks the beginning of vital development in the parish. His first concern was the Christian education of our youth.
Within two months of his assignment Father Brand had established a one-room school in the rectory, and had engaged Miss Anna Schwepker to teach the 35 pupils enrolled. The following year Father Brand secured the assistance of the Ursuline Sisters (Order of St. Ursula - O.S.U.) from St. Louis to conduct the school. We then built a small brick school house which proved, very soon, to be inadequate to meet the needs of the Sisters and our growing student body.
Faced with the inadequacy of the small brick school building we drew plans for a large, modern building to serve as our parish school. William Bruenderman constructed the new, three story brick school building. We named the new school the Charleston Convent School. We opened its doors to the first class of students on September 12, 1892.
Living quarters for the Sisters and the female boarding students, as well as the class rooms, were located on the first and second floors of the new school building. The third floor of the building provided a parish hall and auditorium. Some few boys who attended as boarding students lived in the rectory. The Charleston Convent School building, which still serves the people of our parish, is now [2003] known by parishioners as the Old School.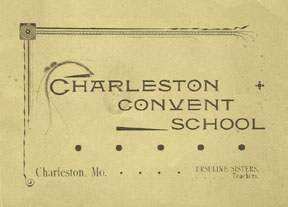 Our school's Fifth Annual Commencement Program, dated Tuesday, June 20, 1893, lists one hundred and thirty two pupils, the majority of whom were of non-Catholic parents. Even at the turn of the century over sixty percent of the pupils were non-Catholics. The enrollment of 1892-1893 of boys and girls lists the children of well known families of Charleston. One hears even today [1973] one or another senior citizen say: "You know, I went to the Convent School."
The prospectus contained in the above noted commencement program declares: "The object of the school is to impart a conscientious and scrupulous training in all elementary branches of learning. It purposes to furnish for advanced scholars, who may so desire, a thorough three years collegiate course. The school thus embraces all classes from Kindergarten to the Academic."
Above excerpted from St. Henry Parish 1873 - 1973.
In October, 2003, Norbert Rolwing wrote the following memory about the early Convent School around the turn of the twentieth century, before the automobile was commonplace - as remembered from stories told by his mother, Ethel Newcum Rolwing, who boarded at the Convent School:
"One thing that could be mentioned about the early school was that the Ursuline Sisters lived on the second floor, and for a while they boarded three or four girls during the school year who lived in the country several miles from town. My mother, whose home was in Thompson's Bend, and two or three other girls were there at least one or maybe two years. One of the other girls lived near Bird's Point, and rode the train when she came to town. It seems like one of them lived on Sisters Island. I remember her husband who farmed on the island, but lived across the river in Dogtooth Bend."

- Norbert S. Rolwing, October, 2003